The Tap2Pay WooCommerce payment plugin allows you to take payments directly to your e-commerce store via Tap2Pay's API.
1. Accept a wide range of payment methods: Cards, Paypal, Wire Transfer, SEPA, ACH, Direct Debit
2. Supported payment gateways: Bluesnap, Braintree, Stripe, Paypal, Bepaid, CreditGuard
3. Bank's payment card acquiring
4. No install app needed
5. One-click payment
6. Subscriptions
Pay via messengers: Facebook Messenger, WhatsApp, Telegram, WeChat, Viber.
Integration with WooCpmmerce:
1. Download the latest version of the plugin to your computer.
2. With an FTP program, access your site's server.
3. Upload the woocommerce payment plugin folder to the /wp-content/plugins folder.
4. In the WordPress administration panels, click on plugins from the menu on the left side. You should see the "Tap2Pay Payment Gateway Plugin" plugin listed.
5. To turn the plugin on, click "activate" on the bottom of the plugin name. You should have now a new menu item called "Tap2Pay Payment Gateway Plugin" in your widget menu.
6. Create a free Tap2Pay account.
7. Go to Settings at Tap2pay account and copy API Key and Merchant Id.  Select tab Notifications add Webhook URL https://YOURDOMAIN.COM?wc-api=wc_tap2pay_payment_gateway
YOURDOMAIN.COM change, please, to your website domain name.
8. Add Tap2Pay in WooCommerce dashboard and paste API Key and Merchant Id
TESTED ON:
MySQL 5.1.2, Apache 2.2.11, Linux, Explorer 8, Safari 4.1, Firefox 3.5, Chrome 5.1, Opera 9.6.
Tap2Pay Payment Widget loaded on your website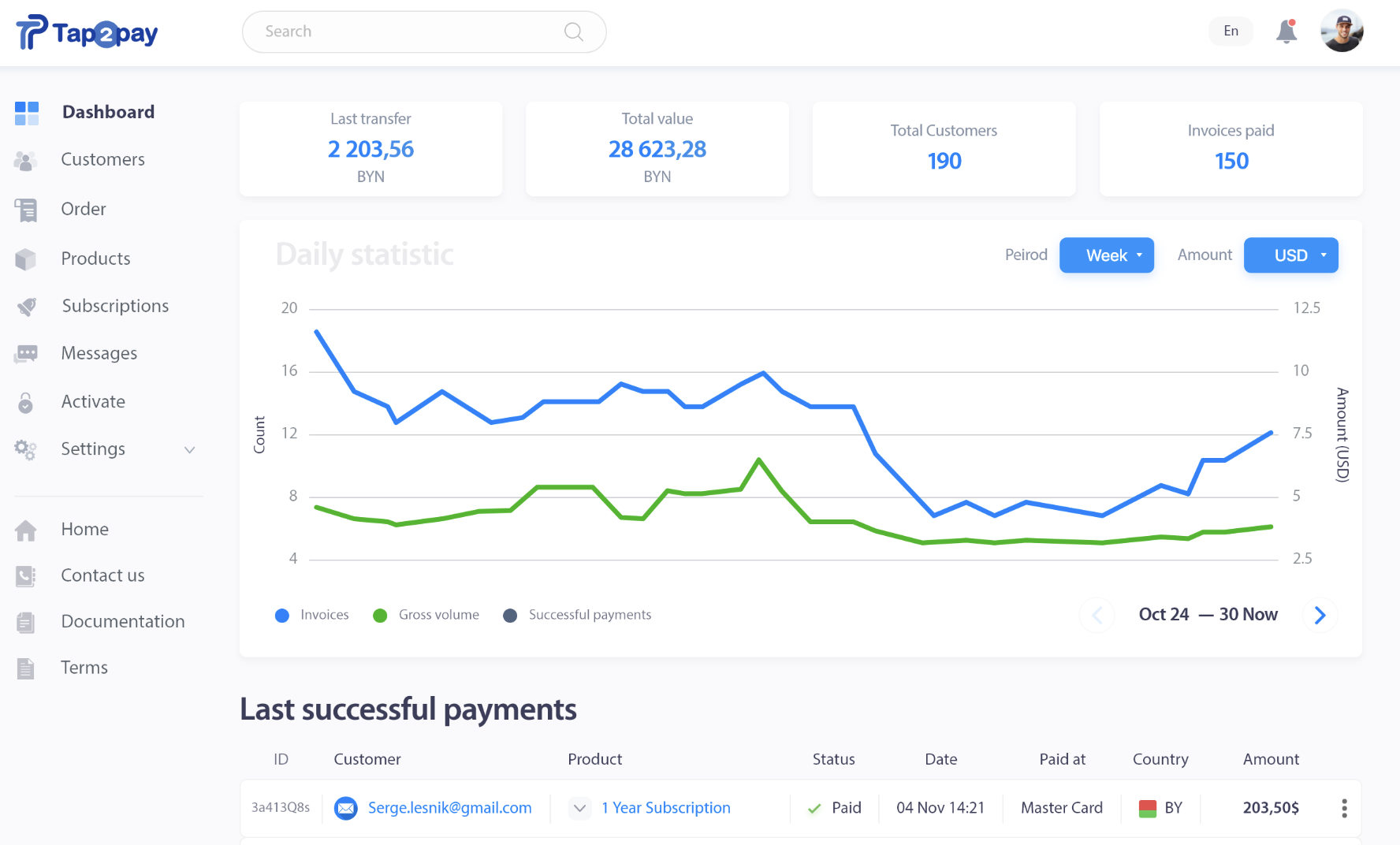 Access the Tap2Pay Dashboard with analytics

Tap2Pay CRM. You can Chat, Support, and Sale via popular Messengers: FB, Telegram, Whatsapp, Viber, WeChat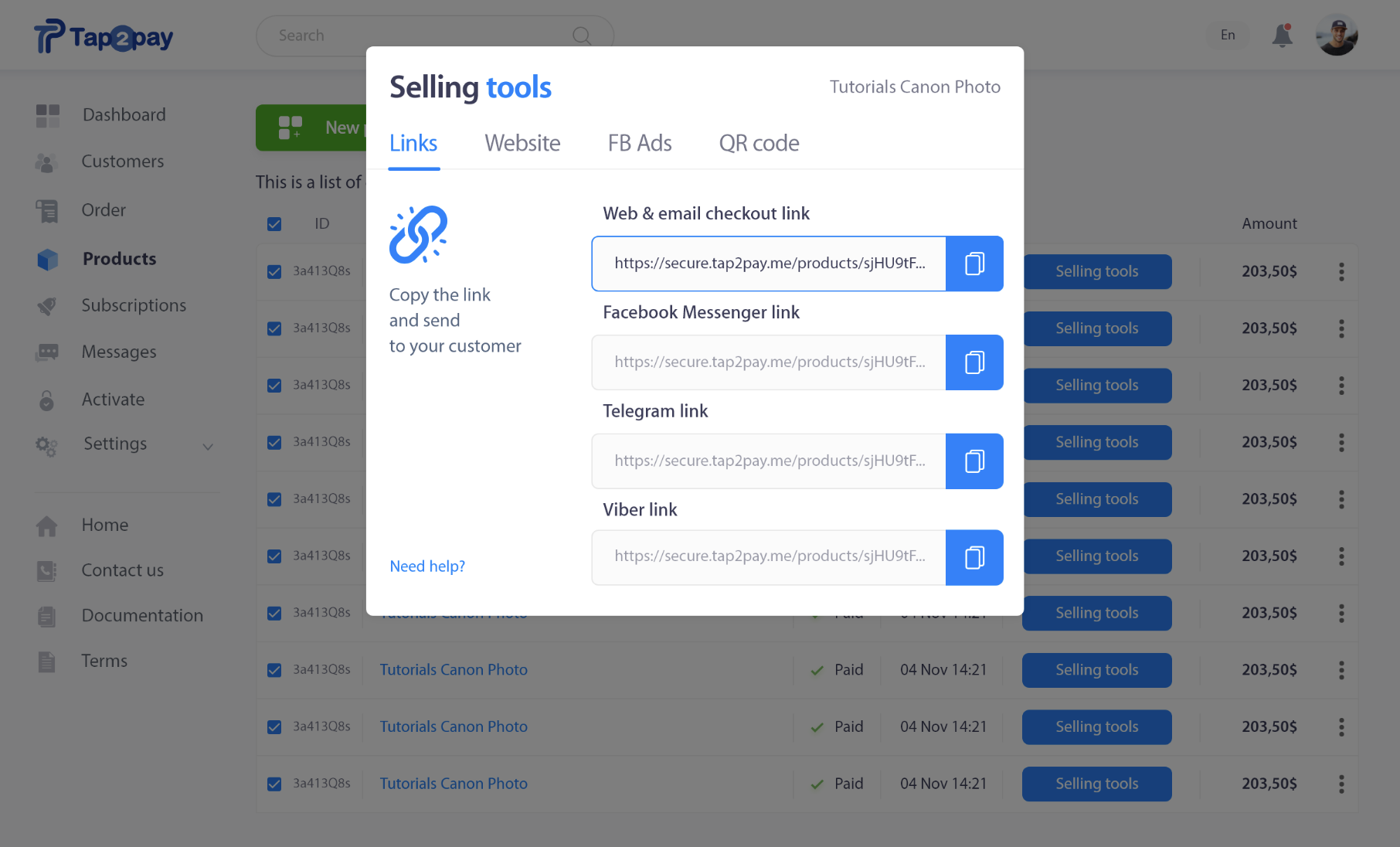 Tap2Pay Selling Tools. You can sell by the website, social networks, messengers, QR-codes, advertising: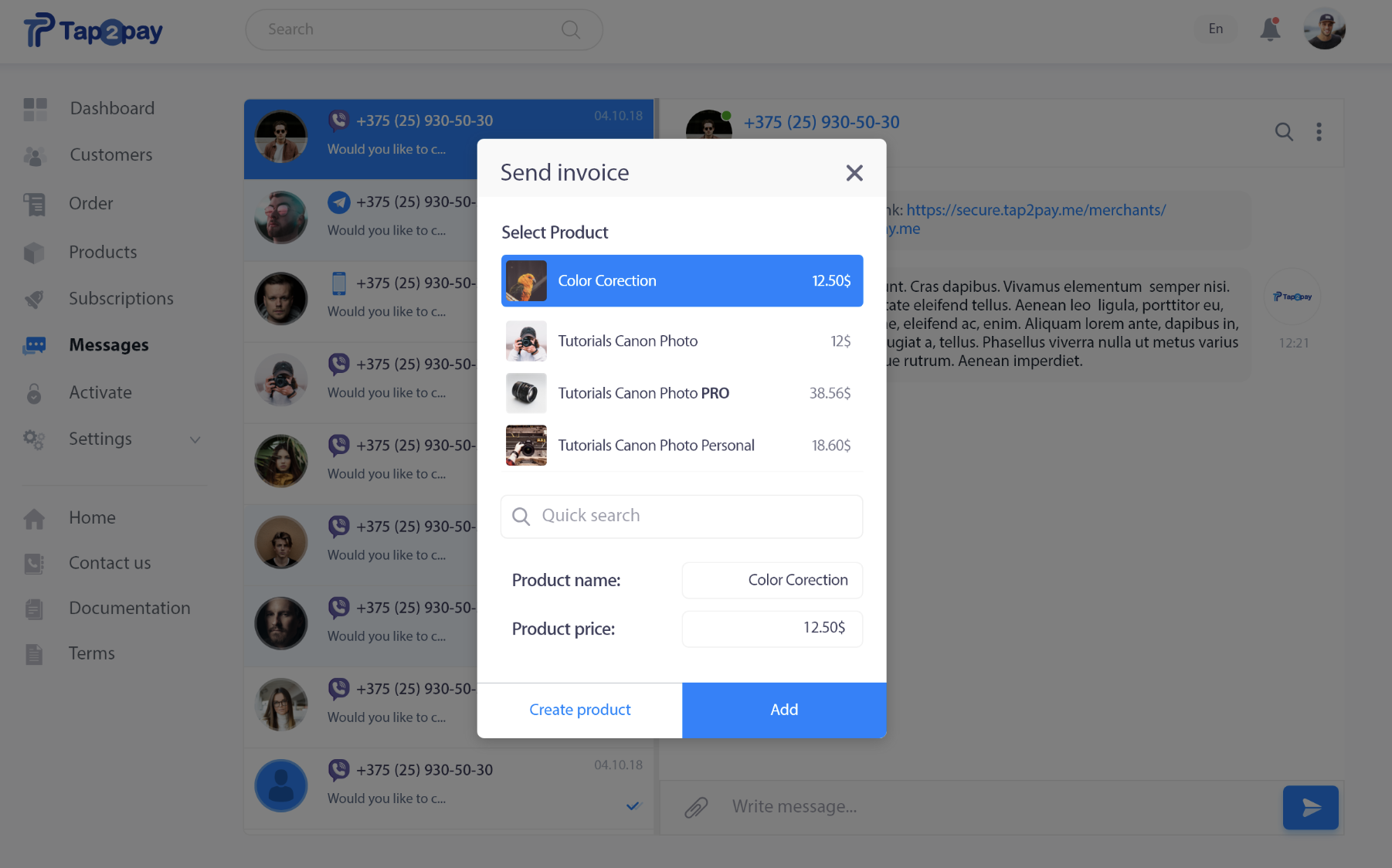 Send invoice in real-time to your customers
Tap2Pay is available in:
United States, Canada, UK, Australia, Belgium, France, Germany, Ireland, The Netherlands, and 150+ more countries.
Tap2Pay is a simple way to accept payments online. With Tap2Pay you can accept a wide range of payment methods: Visa, MasterCard, American Express, Discover, JCB, and Diners Club cards, even Bitcoin, directly on your store.