How retailers keep their heads above water when consumers shift to digital commerce
2020 was a challenging year for most industries, but it was extremaly challenging for retailers in particular. Although most retailers have made significant changes to enroll in eCommerce, they still rely heavily upon in-store sales for their operations.
Many of the retailers that shifted to eCommerce during the COVID-19 pandemic have also successfully experienced devastating part of the pandemic's subsequent market disruptions. Anyway most analysts also agree that nothing will ever be the same again. Social commerce and eCommerce are now integral to retailers' overall sales operations, and they should implement strategies to prepare for the next generation of e-shoppers.
In our blog we want to share with you some research and insights conducted by WBR Insights to inform you how retail brands are shifting their social media strategies among changing consumer habits and digital shopping trends, and what that means for the future of the retail industry.
COVID-19 Impact
According to the results of the research, almost half of retailers (46%) increased their social commerce spending in 2020, due to the COVID-19 pandemic. These retailers tended to invest more resources in social commerce as their businesses shifted online.
However, over one-third of the respondents (35%) decreased their social commerce spending in 2020. The remaining 19% say the pandemic did not affect their spending. There are several reasons why some retailers decreased spending.
For some retailers, social commerce may not yet be an important channel. For others, budget challenges during COVID-19 may have influenced cuts in spending, or some businesses may have sought to go in a completely different direction.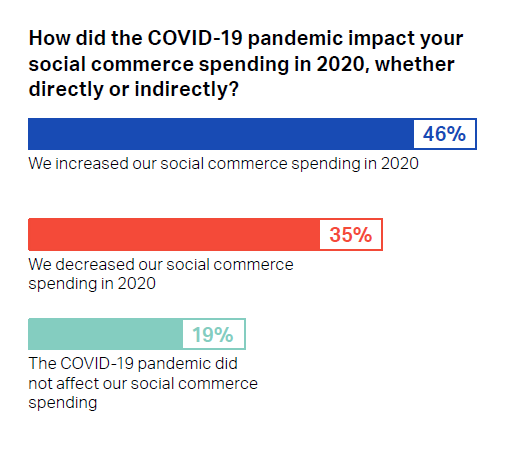 Marketing company in social media
Throughout the history, retailers have used social media to encourage customers to visit stores and buy. But as part of an overall eCommerce strategy, social media advertisements can help to drive eCommerce sales, especially through referrals.
Retailers can use their social networks accounts to engage customers through visuals, content, special offers, and more. A majority of respondents say they are either increasing their investments in social channels (24%) or maintaining their existing budget (31%) over the next 12 months.
Nonetheless, almost half of the respondents (45%) plan to decrease their investments in social channels.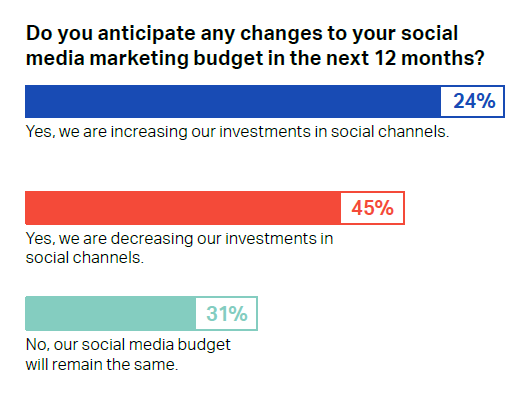 When coordinating social media advertising
When it comes to coordinating social media campaigns only 38% of the respondents say their organizations have coordinated social media advertising with their overall eCommerce strategy.
Although 34% of the remaining respondents say they are currently considering this capability, more than a quarter (28%) have not implemented their social media advertising and eCommerce strategies and have no current plans to do so.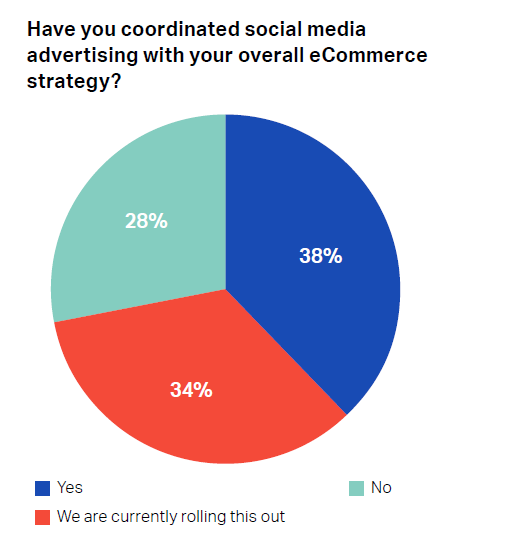 Future strategies
Still, retailers have ambitious goals for their social commerce strategies over the next 12 months. At 51%, most of the respondents plan to engage with customers via chatbots or other automation technologies.
Retailers are also planning to shorten the path to purchase over the next 12 months (46%), such as through social check-out features. The advantage of social checkout features is that customers can make purchases without leaving their preferred channel. Instead of being redirected to a retailer's website where they must enter login information, the customer can check out quickly through the social media platform for a seamless, more intuitive buying experience.
Finally, retailers hope to integrate new analytical tools, so they have a better understanding of their customers (46%). And to deploy novelty content like augmented reality (AR) programs to engage customers (44%).
These results suggest that many retailers making significant investments into new and exciting shopping channels. Retailers must be able to keep up with consumer expectations and shopping habits, especially as the next generation of shoppers reaches adulthood.
Changes in customer behaviour
One of the biggest challenges facing retailers who have a prominent eCommerce presence is getting ready for changes in customer behavior. As the COVID-19 crisis showed, disruptions can occur in a matter of days, requiring brands to pivot quickly to meet customer's needs.
Now, consumer habits are likely to change again as stores begin to resume regular shopping operations. But consumers have also dramatically changed the way businesses engage in eCommerce sales. Most retailers believe consumers will be more empowered in the next 12 months than they are currently.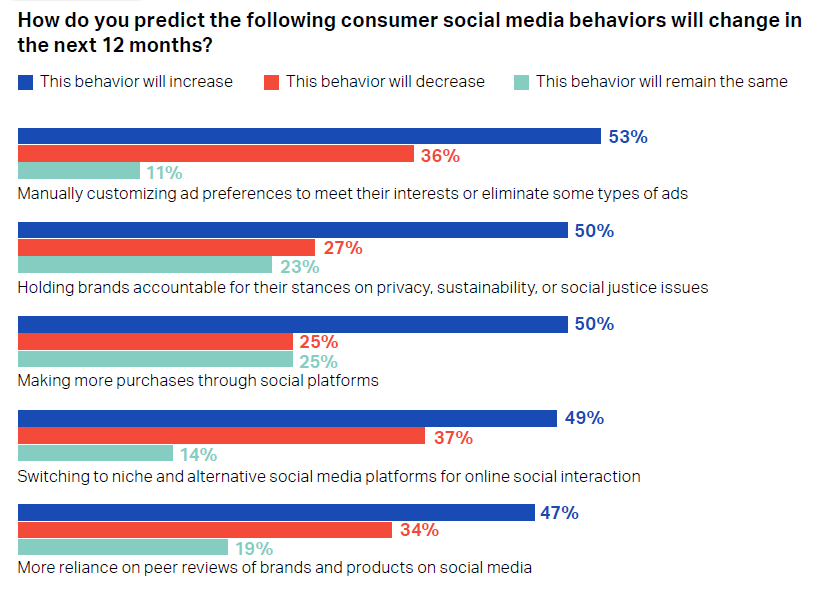 Conclusion
All in all according to the respondents opinion the future of social commerce lies in encouraging customers themselves to engage with the brand using their creativity allowing customers to influence each other
As well as "customer acquisition" and "seeking out new customers" are also important goals for social commerce. Because influencers and personalized content help to reach new customers on their favorite platforms.
Last but not least, many respondents believe that the future of eCommerce is where many of the sales occur directly through social media platforms.
While retailers may be approaching social commerce with different objectives, they are clear on their strategies and what they expect from consumers moving forward.
Tomorrow's retail customers will be more empowered than ever, and it will take a combination of data, analytics tools, personalization, and influential content to build meaningful connections with them.