Tap2Pay supports the most popular payment gateways. If you want to integrate PayU with your Tap2Pay account follow this short instruction:
1. Integrate Tap2Pay payments button on the website following the instruction:
https://tap2pay.me/integrate-a-payment-gateway-into-a-website/
2. Registrate PayU business account by the link:
https://secure.payu.com/boarding/#/form?nsf=true&partnerId=elo7hegr&lang=pl
English version: 
https://registration.payu.com/boarding/#/form?lang=en&nsf=true&origin=pl&partnerId=elo7hegr
3. After the business account is registered, go to the Registration (Rejestracja) tab, scroll down and select Show configuration (Pokaż konfigurację).
4. On the page that opens, you will see the Configuration Keys field like this: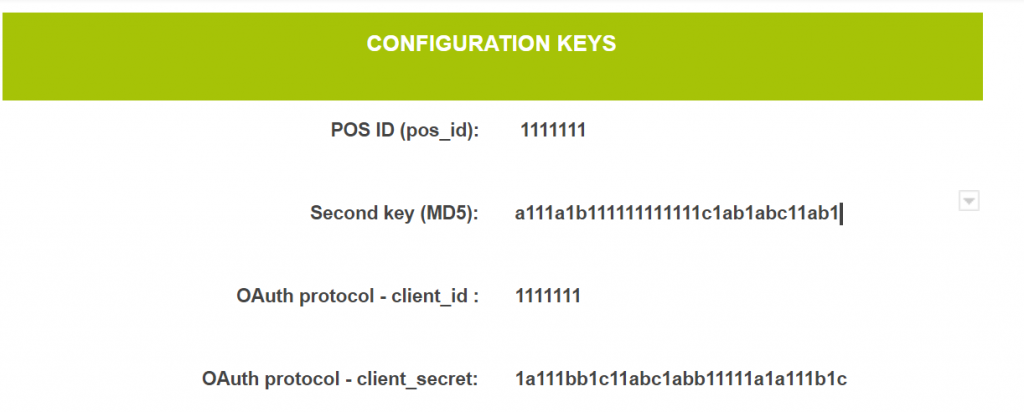 5. Go to your Tap2Pay account, select the Settings – Payment Gateways tab, click the Add PayU button.
6. A page with a form will open, copy and paste the Configuration Keys from your PayU account. After that, your account will be activated within one day
Supported Countries:
Poland, Argentina, Brazil, Chile, Colombia, Czech Republic, Hungary, India, Mexico, Nigeria, Panama, Peru, Romania, Russia, South Africa, Turkey.
Supported card types:
Visa, Mastercard, Maestro, Visa electron.
Supported payment types:
Credit and Debit Cards: Visa, Mastercard, Maestro, Visa Electron.
Bank Transfers: Alior Bank, Bank Pekao, BNP Paribas, MBank, Deutsche Bank, PKO Bank, Idea Bank, etc. Over 20 banks in total.
Alternative Payment Methods – Blick, visa checkout, MasterPass.