Payments For Website, Social Pages and Messengers
Sell service and products on Facebook, Instagram, Messenger, WhatsApp, Telegram, Viber and WeChat
Sell without annoying signup forms
Your clients get an invoice on Facebook Messenger or Telegram. There is no need to create an account to make a purchase, which helps in conversion rate and sales volume.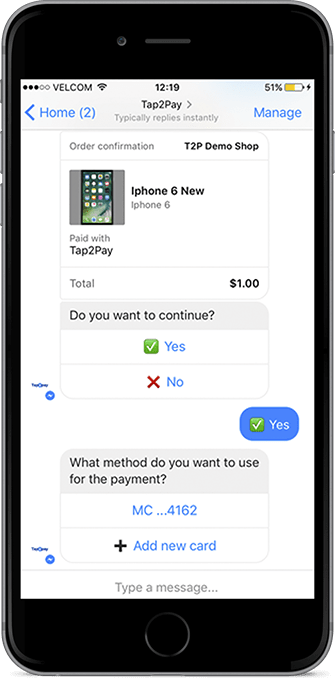 Peer to Peer payments (P2P)
Lend \ borrow money while chatting with your friend. It's fast and easy even if you are miles away.
Instant upselling
Your support team can easily generate and send invoices for complementary services while chatting with existing customers.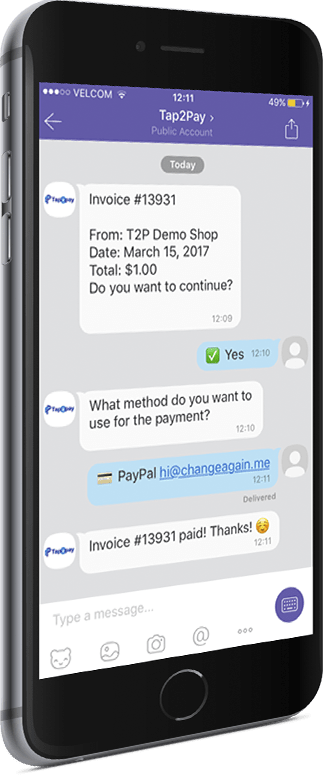 Features and Functionality
Shop Setup
Sell products and/or subscriptions seamlessly without adding any code
A Digital Wallet
Tap2Pay generates security tokens instead of your banking card credentials
Physical Goods
Send shipment notifications to your customers with one click
Accept Payments
Start accepting payments instantly with Tap2Pay. Either you're selling digital or physical goods/services.
Send invoices directly to others (great for dropshipping).
Manage Customers
Anytime someone purchases your products or you receive a payment you'll be able to manage these transactions and customers from within Tap2Pay
Recurring Payments
Create subscriptions and charge your members on a recurring basis (fabulous for SaaS based products).
Watch the video instruction