Hey, Guys!
We promised you to reveal our Messaging document. That's it! 😉
We've already discussed main rules of Messaging document compilation in our previous post. Here's our own example:
1. Tagline/ by-line for Messaging document (short description of the company, reflecting the essence of the business that fit on the business card)
We discussed two options:
First – oriented towards the buyer (to be used for the media focused on the end consumer)
Instant payments for instant messengers.
Pay without leaving a conversation.
With Tap2pay never type in your credit card number again. Pay as you chat.
Tap2pay — instant and secure payments right in your chat.
Pay as fast as you tap.
Second – oriented towards the seller (to be used for the media focused on e-commerce and other online sellers)
Sell where your customers are — in messengers.
Customers social channels are your sales channels.
From talk to pay in two taps.
The most convenient and conversational way to pay.
Payments with a conversational interface.
"Filling out the form made me want it more", said no one ever.
2. Product Description under 50 Words for Messaging document
How to use it: You can use it for an elevator pitch. For example, company description on Linkedin, CrunchBase, AngelList, and for accelerator applications.
We propose 2 options:
First – for the merchant (to be used with media focused on e-commerce):
"Tap2pay is a payment service that allows an online business to send an invoice directly to the customer's messenger of choice. This increases conversion for the merchant while creating a seamless and secure experience for the buyer."
Or
"Tap2Pay allows your customers to make purchases right within the familiar environment of Facebook, Viber, or Telegram messenger. Sell on your site or through a direct link; skip the annoying forms; convert better and grow sales."
Second – for the end-consumer (to be used with media focused on the end-consumers):
"Tap2pay allows you to complete purchases within your favorite messenger. Never fill out another annoying form again. Shop with a few taps."
3. Product Description under 100 Words (Boilerplate) for Messaging document
An extended version of the elevator pitch. It is used when you have the opportunity to tell/write about yourself a little more.
Tap2Pay.me's example:
"Tap2pay is an online tool that enables payments via instant messengers. Your customer receives an invoice to pay right inside a chat. An online merchant integrates with Tap2pay once and gains an access to a network of users in messaging platforms. Tap2pay increases conversion and provides a secure and seamless transaction process. 21st-century buying for 21st-century life."
4. Founding Story
Remember what inspired you to create this particular product? A personal issue? Accident? Experience of the past work?
Let this form the basis for a brief description of the business formation.
"Conducting most of their informal and business conversations via messengers, founders noticed how businesses were missing a lot of opportunities by not accepting payments right inside the chats. And that's when they decided to create Tap2pay, a payment system for a mobile life. Since then the company has grown from an idea to an international Israel/Belarus business."
Or
"About a year ago, the founders met an owner of a business that was selling online. For a long time, he could not solve one problem – a large number of abandoned carts. We decided to find a solution and help the business. Having studied the problem, we noticed how businesses were missing a lot of opportunities by not selling where their customers are – in instant messengers. The current methods of payment did not meet the requirements and wishes of customers any longer. We took note of this, determined the criteria and trends, assembled a team, and Tap2pay was born. Since then the company has grown from an idea to an international Israel/Belarus business."
5. Founder's Bio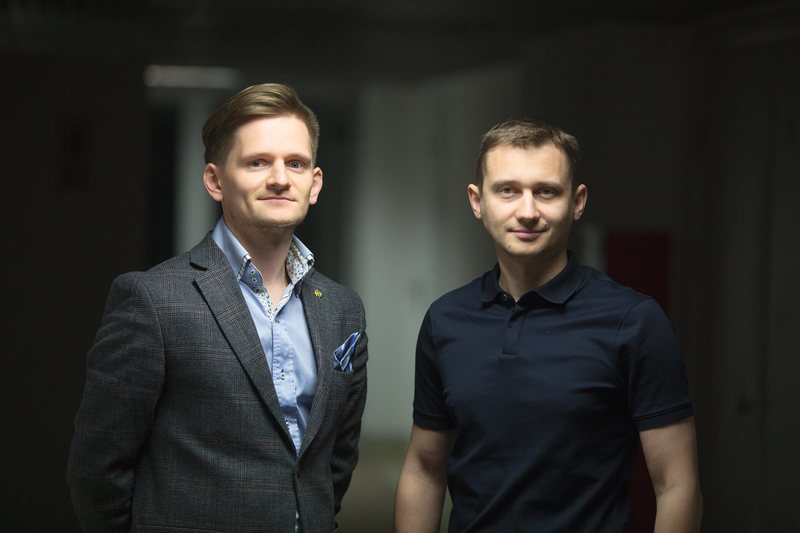 Eugene Palcheuski started as a software engineer, and then switched to product management. In 2009, he sold his first software product — yoursticker.com, which he built in 3 months. Next came multiple B2B SaaS companies working on SEO and mobile app analytics. Currently, Eugene is a co-founder and a CEO of Tap2pay, focusing on company's expansion into new markets.
6. Product Key Differentiators and Value
Increased conversion for an online seller.
A secure and convenient way to buy online for a customer.
Converts spontaneous purchasing behavior into a sale.
Shortens transaction time.
Freelance sellers are no longer tied to a transaction environment.
7. Company Mission
Enable purchasing in a secure and seamless fashion within the existing messaging platforms.
Increase conversion and retention rates for the online merchant.
Make e-commerce more social.
All mentioned above is useful for pitches
"American journalists are never sent ready articles for publication. You make for them a so-called pitch, which consists of concisely listed facts about the company. Talk about market trends (we explained this in a previous article) and why this information is relevant right now. And further the journalist already independently makes out the information in a full-fledged article."
The structure of the pitch may be the following:
Introduce yourself and describe how they came to the journalist (met at the event, read the article, etc.).
Briefly report on the information guide that you want to highlight (the round of investment is closed, launch).
Company description under 100 words with links to online resources.
Who are your customers?
Who are your main competitors?
Your differentiators (3-5).
An invitation to a dialogue.


Follow us – in the next publication – Message for Investors or how to find money for your Startup ? – Stay tuned!

Want to learn more? Leave us a message or try Tap2Pay out by messaging us here.