The pandemic has made the eCommerce market grow strongly.
From March to today, 7691 new online stores have been established – the number of stores has increased by about 15%.
As people are making buying choices based on new and ever-changing global and local circumstances, the product categories that are being purchased are also changing.
Product Categories Shifting During COVID-19
Grocery e-commerce.
Online purchases of food and beverages are up 285% since the start of the pandemic.
Grocery e-commerce soared in the second week of March after shoppers turned online to find the goods they needed but weren't available at their local grocery stores.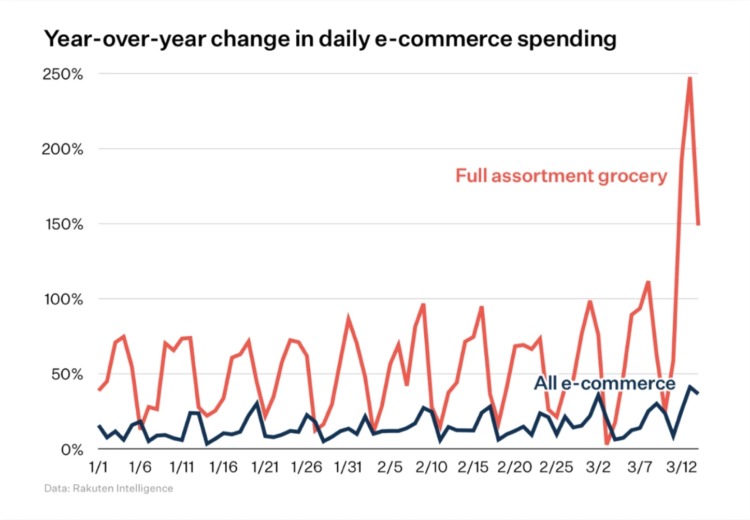 Subscription services
Subscription and convenience services have seen significant upward trends in both revenue and conversion.
Health and safety products
According to data from Nielsen, items like hygienic and medical mask sales are up by more than 300%.
Shelf-stable goods.
Another category of consumer packaged goods that is booming is shelf-stable items. These fit into the category of people planning for long-term quarantine. 
Digital streaming
People are homebound and no longer pursuing external entertainment options that there is an increase in digital streaming services. In addition to streaming services like Netflix, Amazon, Hulu, and Disney+ seeing atypical gains in subscribers, non-traditional streaming services like movie studios are releasing media streaming, on-demand, sometimes earlier than projected release.
Luxury goods.
While the above products and services are increasing in sales due to the current situation, other industries are not doing as well. In addition to obvious ones like entertainment, restaurants, and travel, one area projected to have significant losses is the luxury goods industry.
Vogue Business projects a potential loss as great as $10 billion for this industry in 2020 due to COVID-19.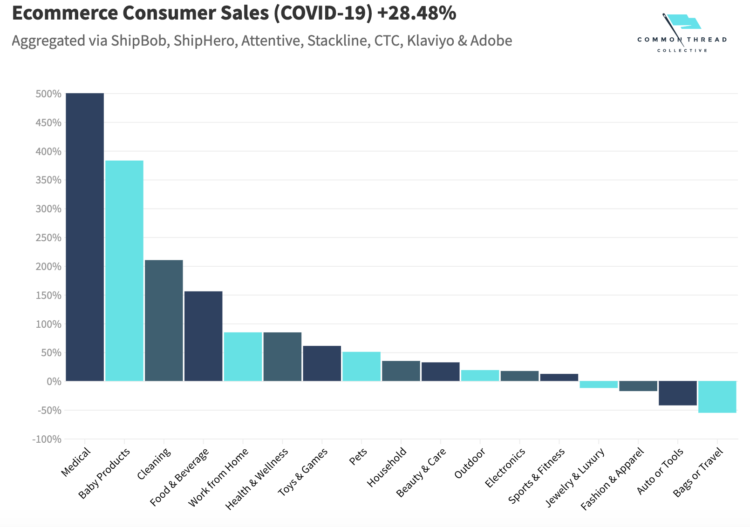 Fashion and apparel.
As mentioned above, omnichannel sellers are seeing big losses, in part because they're closing the retail arms of their businesses altogether. People are understandably not interested in shopping for clothes in person. 
Even online apparel sales are down as people are putting more of their budgets into daily essentials.
Online payments trends
A survey by Engine found that people are spending on average 10-30% more online. 
It's no exaggeration to say that the coronavirus pandemic has changed business forever. Years of change have been condensed into a couple of months. Even though this is clearly a very challenging time, we have seen a growing interest in digital payments and a number of businesses moving to the online space.
The COVID-19 pandemic completely changed consumers' shopping behavior and has been a catalyst for change in the fast-moving payments industry.
How has the coronavirus impacted consumer trends?
Gen Z and millennials have previously led the global digital payment revolution, but COVID-19 has forced older shoppers to embrace digital. We see increased e-commerce adoption by baby boomers; eMarketer anticipates a 5.8% increase in the number of online shoppers aged 45 years and older, equating to nearly 5 million brand new e-commerce users.
New needs have sparked a shift towards online shopping and away from brick-and-mortar. For example, groceries have seen a meteoric rise in online ordering.
With new curbside and online, pick-up in-store (BOPIS) programs, the typical cash and card payment methods will be harder to maintain. Now, merchants must offer e-commerce and implement digital payment options at the checkout.
We also see the rise and popularity of pay-later apps.
The retailers seeing exponential growth are those that have tailored and localized their payments offering to serve a global audience.
One in four online purchases are now made via an interaction with a social media platform
Analysis commissioned by Visa, which studied shopping habits over the six months to October, has found that one in four online purchases in the UK is now made as a result of interacting with a social media platform.
Furthermore, close to a fifth (17%) of consumers purposely turn to social apps for shopping. Of those that do, 35% cited convenience as a key purchase driver, while 26% also said they liked how quick it is to check out. 
Ahead of the virus, the world was on a trajectory to becoming a digital-first society. Some regions were ahead of others. For instance, Chinese consumers already conducted 56.0% of online transactions via e-wallets, compared to 23% in the U.S. However, we now see increased demand for these types of payments in every region.
To activate payments for your business on all digital channels: sites, social media, messengers (WhatsApp, Facebook, Telegram, Viber) registered by the link.