CEO of Tap2Pay Eugene Palcheuski was invited to participate as a speaker in the Merchant Payments Ecosystem 2020  in Berlin.
Excited to join "Marketplaces and trends of social media commerce" panel discussion, he took the stage on MPE conference day 2 with his keynote "Social media are changing the way we pay turning followers and likes into real customers".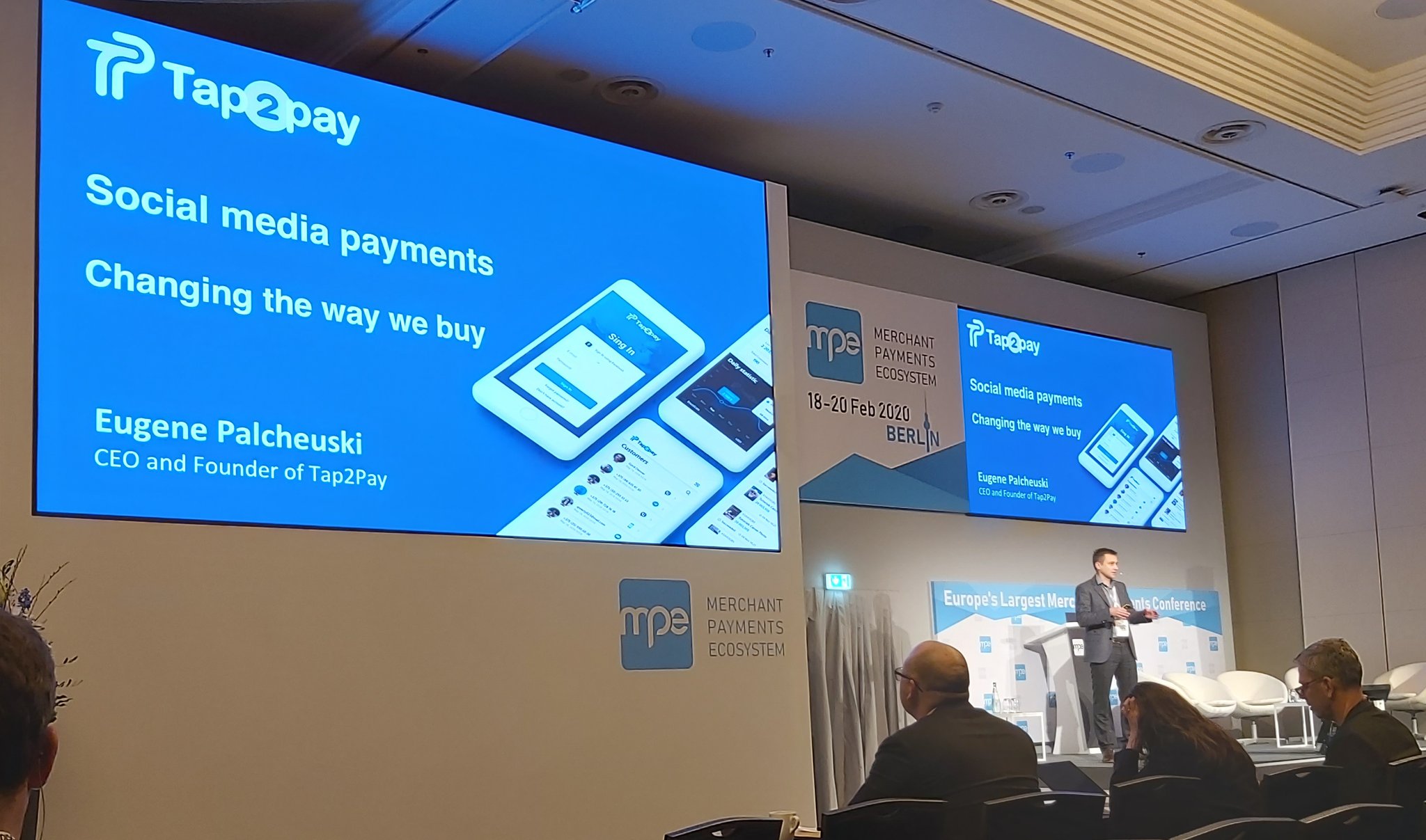 Merchant payment ecosystem gathers more than 1200 attendees: merchants, acquirers, PSPs, and Point of Sale vendors, established companies as well as start-ups, fintech, regtech, and paytech and everyone in between.
280 merchants among delegates: Amazon, eBay, Netflix,  Booking.com, IKEA, Swarovski, Louis Vuitton, Hugo Boss, H&M, Levi's, Zalando, Ferrari,  Porsche, Mercedes, BMW, Audi, FlixBus, Turkish Airlines, ect.
155 speakers discussed fintech and e-commerce trends to look for in 2020, share unique insights provided into how the payments ecosystem will look in the future.
Trends in Retail
Digital is constantly growing with a double-digit thanks to eCom, mobile and social networks 

Physical Stores are still But growth comes from online 

Consumers have become "pain point intolerant" and have got new seamless omnichannel expectations 

Frictionless Experience for both Customers and Employees through increased cost-saving and efficiency improvement  

Customer experience as a Differentiator and a new Competitive advantage 

Accept new payment methods and experiment 

Leverage data across channels  

Increase conversion rates 

Mobile technology completely changing the customer journey 
Payment innovation in Retail
75% of Merchants believe that consumer-facing apps like loyalty and alternative payments will help grow their business.
Popular payment methods:
91% of retailers believe that the benefits of card payments outweigh the costs; 
Card payments –still coming out on top. 53% rated cards as their preferred payment method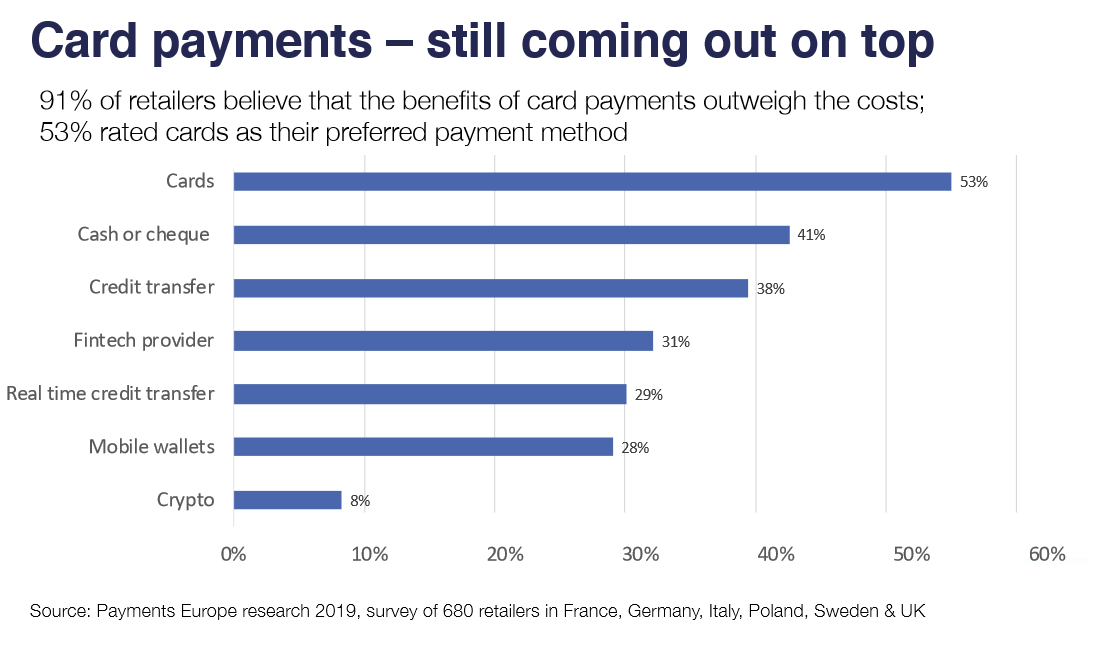 Payment strategies have a measurable impact on merchants' revenues, especially in the case of online businesses. The Payment function has evolved from a necessary cost center to a centralized role, recognized as a revenue & profit driver. Merchants need to innovate and test their offering to ensure their purchase experience remains best in class.
Statistics
65% Of merchants who DO include marketing input in their payment strategy, have you seen a reduction in check-out abandonment rates as a result of payment user experience improvements.
78% of merchants experienced cost savings as a result of their Payments strategy 
87% of merchants have a designated payment team &  those who don't plan to set one up within 2 years. 
65% of merchants saw a reduction in check-out abandonment rates as a result of payment user experience improvements.
Omnichannel–new expectations
Customized offers based on totally protected, personal preferences and information

An enhanced and consistent experience across all devices 

To maximize the value of mobile shopping, both store apps and mobile sites must improve 

Two-way social media engagement 

Smooth shopping journey across devices & geographies

Competitive pricing/promotions that are consistent across channels

Fast, easy, friction-free checkout
PSD2 –revised payment services directive 
While banks and service providers will feel the most direct impact, merchants will be affected as well:
Strong Customer Authentication should reduce instances of criminal fraud…but could add undesirable friction at customer checkout 

Banonsurchargingwillmakecustomershappier…butmaycutintomerchants' revenue, depending on the business model 

Access to Accounts will open up consumer payment options and encourage new players into the market…but may introduce further opportunities for fraud
Social media payments сhanging the way we buy
The number of people online, on mobile and on social has increased year-on-year. let's start with the social network's statistics:
95% of users repeatedly use social media every day and spend on average 2H 23M per day. It's about 6 years of our life.
Social media is generating three times more visits than other channels. And now social commerce is growing even faster than e-commerce.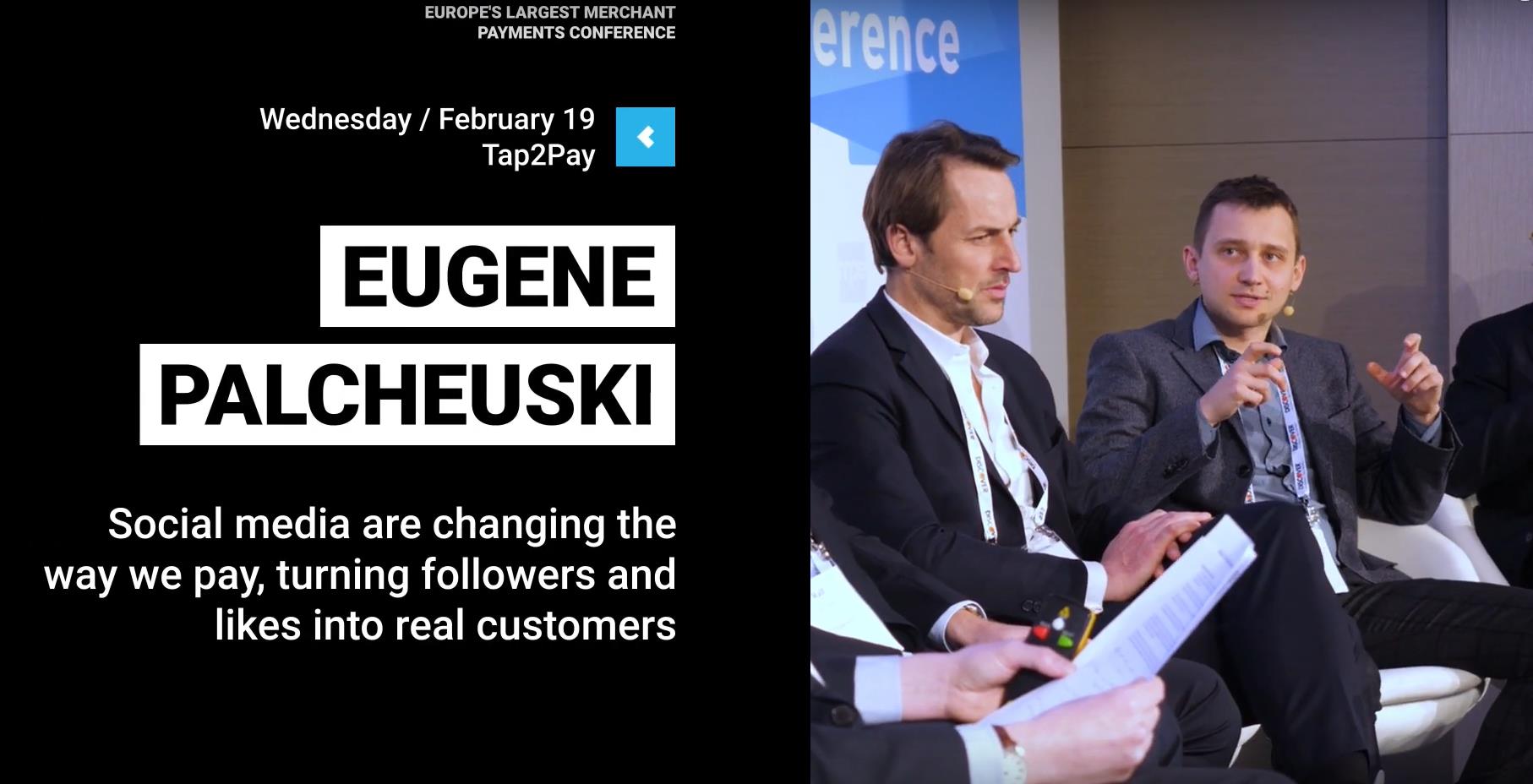 What is social commerce?
Social commerce is defined as the ability to make a product purchase from a third-party company within the native social media experience. For example, you can browse and compare products on Facebook and then make the purchase on Facebook itself instead of going to the company's site to make the purchase.
There are three social media sites that are owning the social commerce space. 55% of online shoppers make a purchase through a social media channel, such as Facebook, Instagram or Pinterest. Each of them provides different selling tools.
Having the opportunity to sell in social networks, merchants face challenges:
8 – 10 step checkout process
Limited payments options
Cross – channel sales management
They need native payments in social media and one-click integration with social channels. To help merchants, we created a unified selling platform –  Tap2Pay to sell by any channel and accept payments on websites, messengers and social networks.